Welcome to the website of the 24th biennial conference of the European Association for Chinese Studies (EACS) which will take place in Olomouc from August 24 to August 27, 2022. The local organisation is provided by the Department of Asian Studies, Palacký University Olomouc.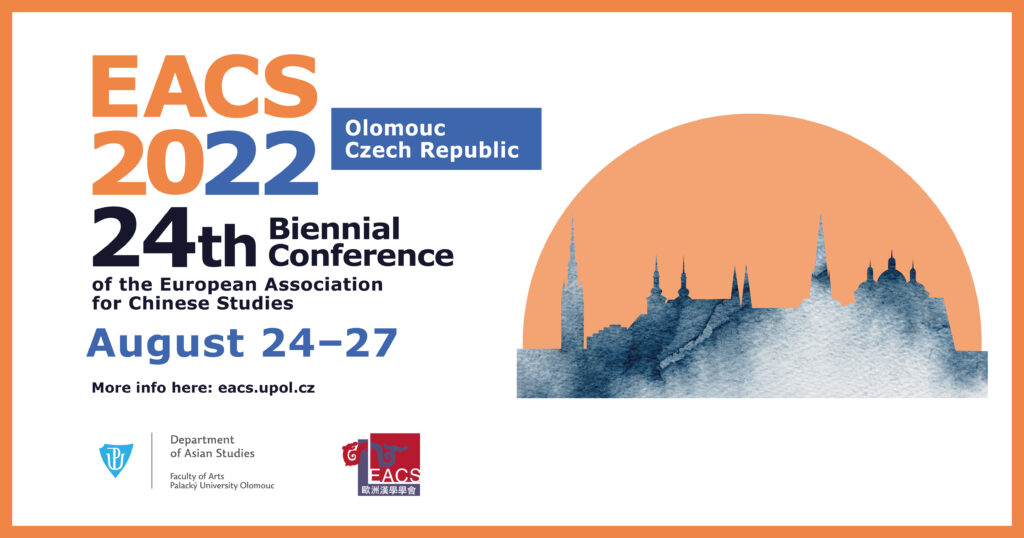 ---
Updates & News
August 12, 2022
You can find the conference program and the conference guide here. You will also get the physical copy of your conference guide in your conference bag. The registration will begin on August 23 at the Faculty of Arts, Křížkovského 10, room 1. 25 at 13:00, and will remain open during the conference.
July 13, 2022
The registered EACS conference participants can come for the Olomouc City Tour. There are two options: August 25 and August 26. The tour will start at 6 pm in front of the Olomouc Information Centre and will last for about two hours. Please register here with your full name, or at the registration desk.
There is also a possibility to visit Olomouc Research Library's Study Room of Historical Collections on August 25 and August 26 at 14:00. During the visit, the librarian will show the visitors some of the precious manuscripts and maps, e.g. Martino Martini's Novus Atlas Sinensis, Michał Boym's Flora Sinensis and other unique exemplars. Please register here with your full name, or at the registration desk.
June 16, 2022
The preliminary conference program is ready. For more information click here.
June 9, 2022
The preliminary conference program will be available on June 16.
April 22, 2022
Do not hesitate to contact us if you need the Letter of Invitation for visa purposes. Send all the details you need to have written in the letter to eacs@upol.cz
March 31, 2022
We have sent out the results of the peer reviews. In case you have not received an e-mail, please contact us at eacs@upol.cz. The registration page for the EACS 2022 can be accessed here (the registration is already closed).
March 8, 2022
We have updated the accommodation section, see the recommendations and suggestions here.
January 16, 2002
Thank you for the hundreds of proposals submitted for the EACS 22. The results will be announced by March 31, 2022.
October 4, 2021
You can submit your paper/panel/alternative format proposal here (you will need to create an EasyChair account – it takes about 1 minute).
September 6, 2021
The Call for Papers and Panels for the EACS22 is here! See more
September 4, 2021
We added a "Forum" to our conference website. If you are looking for a panel or a new panellist, give it a try! See more